In the aftermath of Hurricanes Florence and Michael, farmers across the Southeast face devastating losses to this year's harvest and livestock operations. Through the Farm Bill and other authorizing statutes, Congress has created several programs that allow farmers to receive financial assistance after a natural disaster. These USDA programs go far in helping affected individuals recover and move forward. However, USDA disaster relief programs do not acknowledge that climate change will likely increase the frequency and cost of future natural disasters.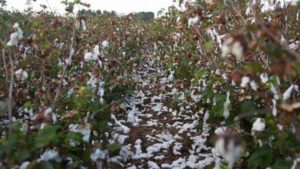 Cotton Crop after Hurricane Michael (photo credit: WPLG)
This post will explore the current relief programs. The next post in this series will explain how USDA's response to disasters could provide more fiscal stability to America's farming community by acknowledging and planning for the impact that climate change will have on weather-related events.
Disaster affected farmers can receive some financial compensation for their loss of crops or livestock after a natural disaster through several USDA mechanisms, CRS has a handy report to help farmers navigate the programs. As a regularized form of protection, farmers can purchase crop insurance that is subsidized through USDA's Risk Management Agency. USDA also maintains disaster relief programs for non-insurable crops and for livestock and fruit trees. The Non-Insured Crop Disaster Assistance Program (NAP) received permanent authorization in the Federal Agricultural Improvement and Reform Act of 1996. NAP provides up to $125,000 of coverage to producers of crops for which there is no insurance scheme available, including crops grown for fiber, crops grown for food, specialty crops like honey or maple sap, and other included crops, but excluding crops that cannot be grown under federal law (i.e. cannabis). USDA created a fact sheet to keep it all straight. NAP does not rely on annual appropriations, but is instead authorized to access "such sums as are necessary" from the USDA's Commodity Credit Corporation.
Similarly, the 2014 Farm Bill permanently authorized the Livestock Indemnity Program (LIP), the Livestock Forage Disaster Program (LFP), Emergency Assistance for Livestock, Honey Bees, and Farm-Raised Fish Program (ELAP), and the Tree Assistance Program (TAP). Like NAP, LIP, LFP, ELAP, and TAP are able to access whatever funds are necessary to reimburse farmers, and farmers are capped at $125,000 per year. These programs are all meant to provide financial assistance to farmers and ranchers who have experienced large losses to their expected production due to a weather event.
—————–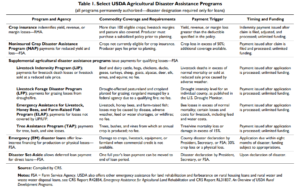 —————-
In addition, USDA has supplementary programs to mitigate the impact of particularly large-scale disasters, assist farmers in restoring their land, and provide discretionary funds to affected individuals. If the President or the Secretary of Agriculture declares a disaster or quarantine area, farmers in the area may be eligible for low-interest emergency disaster loans. If producers are faced with damage to their land, USDA's Emergency Agricultural Land Assistance Programs support restoring land and watersheds to promote agricultural and livestock production. Finally, USDA has discretionary authority to provide some additional funding to affected farmers and can take administrative actions such as extending emergency grazing or administering rural water grants to ensure that communities have adequate support.
USDA makes all of these programs highly accessible to affected farmers. For example, the USDA website contains a Reference Guide for farmers, ranchers, and their communities that lists a variety of resources to help mitigate the results of a disaster. Some resources are meant to help farmers prepare for disasters and others explain how to receive help after a disaster. Moreover, USDA created a user-friendly "Disaster Assistance Discovery Tool." Farmers can answer five simple questions (for example, the first question asks, "Did you suffer a loss or damages as the result of a natural disaster?"), and the website then directs them to resources that could help with their specific circumstances. Such tools make disaster relief available to farmers across the country.
These services provide important to relief to farmers after a natural disaster decimates their production.